GENERAL DATA
Architect: Glenn Howell
Developer: Moda Living
Main Contractor: Sisk & Son
Airspace Protection Lighting: Medium Intensity ICAO Type-C
TECHNICAL DATA
Heights: 132m
Floor Count: 42
Materials: Concrete, Steel and Glass
CEL Aviation Lighting: CEL-MI-ACWGAM
THE DEVELOPMENT
The Mercian is located Broad Street, Birmingham and the tower is captured for airspace protection by vested stakeholders.
Visual Red Medium Intensity Aviation Lighting marking the highest points of the development offer an omni-directional airspace protection coverage for passing aviators.
All aviation fittings are constructed with marine grade chassis and end parts are A316 stainless steel components.
AIRCRAFT WARNING LIGHTING
Robust CEL aviation lights compliant to CAA / EASA / ICAO installed complete with inbuilt BMS fault monitoring, WIFI monitoring and 3hr UPS battery backup.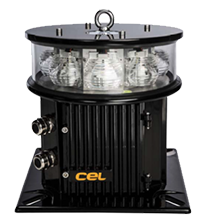 CEL-MI-ACWGAM