GENERAL DATA
Architect: Mott, Hay & Anderson
Construction: ACD Bridge Company Ltd
Maintained: Halton Borough Council
Airspace Protection Lighting: Medium Intensity ICAO Type C
TECHNICAL DATA
Height: 87m
Total Length: 482m
Design: Steel Through Arch
CEL Aviation Lighting: CEL-MI-ACWGAM
THE BRIDGE
Steel arch Runcorn Bridge spans the Mersey River and Manchester Ship Canal, connecting Runcorn to Widness. 
Grade II structure was captured by Liverpool Airport for aviation safeguarding protection during refurbishment in 2018. CEL Medium Intensity Type-C red aviation lights were positioned at the highest and intermediary bridge levels.
The CEL aviation lights are c/w built-in fault monitoring, day/night photocell, GPS flash synchronisation, spirit levelling and marine grade chassis and A316 end parts.
AIRCRAFT WARNING LIGHTING
Robust CEL Aircraft Warning Lighting in strict compliance to captured CAA / EASA / ICAO regulations.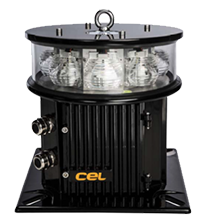 CEL-MI-ACWGAM