GENERAL DATA
Architect: Kohn Pederson Fox
Developer: Damac
Interiors: Versace
Airspace Protection Lighting: Medium Intensity ICAO Type C
TECHNICAL DATA
Height: 170m
Floor Count: 50
Materials: Glass and Steel
CEL Aviation Lighting: CEL-MI-2KR-48
THE DEVELOPMENT
Located in Vauxhall, The Damac Tower is a residential tower that makes up part of a larger cluster of tall buildings in the Vauxhall regeneration area.
Aviation lighting at the highest and intermediary levels ensure the necessary compliance to EASA and CAA regulations
CEL aviation lighting was recommended for quality, intelligent inbuilt control and ease of installation and service.
AIRCRAFT WARNING LIGHTING
Robust CEL aviation lights compliant to CAA / EASA / ICAO installed complete with inbuilt BMS fault monitoring, WIFI monitoring.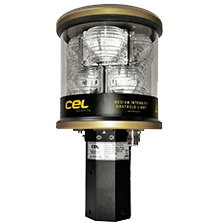 CEL-MI-2KR-48