GENERAL DATA
Architect: Aedas Architects
Main Contractor: Al-Futtaim Carillion
Sub-Contractor: Al Shirawi
Airspace Protection Lighting: Medium Intensity ICAO Type C
TECHNICAL DATA
Height: 145m
Floor Count: 25
Materials: Concrete, Steel and Glass
CEL Aviation Lighting: CEL-MI-2KR
THE DEVELOPMENT
Al Bahr Towers, Abu Dhabi City, is a 29 story Eco development. CEL aviation lights were selected to supply the Airspace Protection for its quality and performance in the demanding local temperatures.
Whilst fulfilling the required energy and environment credentials, CEL aviation lighting was chosen for very low power consumption, extended LED lifetimes, long warranties complete with a compact lightweight design.
AIRCRAFT WARNING LIGHTING
Robust CEL aviation lights compliant to CAA / EASA / ICAO installed complete with inbuilt BMS fault monitoring.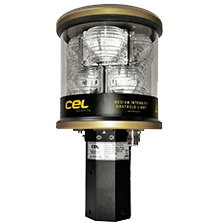 CEL-MI-2KR-48