GENERAL DATA
Architect: Aedas Architects
Developer: Landmark Developments
Main Contractor: Bovis Lend Lease
Airspace Protection Lighting: Medium Intensity ICAO Type-C
TECHNICAL DATA
Height: 112m AGL – 145m ASL
Floor Count: 32
Materials: Concrete, Steel and Glass
CEL Aviation Lighting: CEL-MI-2KR
THE BUILDING
Bridgewater Place, is an office and residential skyscraper in Leeds, West Yorkshire, England.
Captured for airspace protection lighting when topping out in 2005, now the second-tallest after Altus House another CEL lighting installation was topped out in 2021.
AIRCRAFT WARNING LIGHTING
Robust Medium Intensity Type-C 2,000cd red CEL aviation lights compliant to captured CAA / EASA / ICAO regulations. BMS connected by CEL network controller.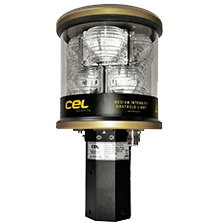 CEL-MI-2KR-48