GENERAL DATA
Architect: James Burland
Developer: George Wimpey
Airspace Protection Lighting: Medium Intensity Type-C
TECHNICAL DATA
Height: 56m
Floor Count: 17
Materials: Steel & Concrete
CEL Aviation Lighting: CEL-Ml-2KR-48
THE DEVELOPMENT
Falcon Wharf is a residential riverside development in Battersea, South London. Its adjacent proximity The London Heliport triggered airspace protection aviation safeguard lighting.
Compliant CEL aviation lighting products have been installed complete with fault monitoring and battery backup.
AIRCRAFT WARNING LIGHTING
Robust CEL Medium Intensity Type-C – Aircraft Warning Lighting in strict compliance to captured CAA / EASA / ICAO regulations.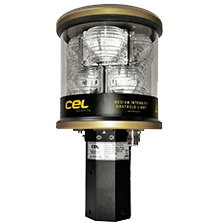 CEL-MI-2KR-48