GENERAL DATA
Architect: Tribich, Liefer & Starkin
Developer: Berkeley
Airspace Protection Lighting: Medium Intensity ICAO Type C
TECHNICAL DATA
Height: 71m
Floor Count: 22
Materials: Concrete, Steel and Glass
CEL Aviation Lighting: CEL-MI-ACWGAM
THE DEVELOPMENT
Formerly a 1960s office block, Leon House, was redeveloped into a residential and mixed use building.
At 71m, Leon House was captured by helicopter stakeholders for compliant aircraft warning light protection.
CEL airspace specialists were commissioned by Grontmij to advise compliance for the airspace protection of aircraft to nearby helicopter traffic routing.
AIRCRAFT WARNING LIGHTING
Robust CEL aviation lights compliant to CAA / EASA / ICAO installed complete with inbuilt BMS fault monitoring, WIFI monitoring and 3hr UPS battery backup.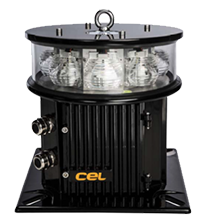 CEL-MI-ACWGAM