GENERAL DATA
Architect: Knight Architects
Construction: Merseylink CCJV
Maintained: Halton Council
Airspace Protection Lighting: Medium Intensity ICAO Type C
TECHNICAL DATA
Height: 125m
Total Length: 2.2km – 1.4miles
Materials: Concrete and Steel
Design: Cable Stayed
CEL Aviation Lighting: CEL-MI-ACWGAM
THE DEVELOPMENT
Mersey Gateway Bridge opened to traffic in 2017. The new cable-stayed river crossing is located near Liverpool and forms an elegant presence across the River Mersey.
At 125m the bridge height was captured by Liverpool Airport for their airspace safeguarding concerns. Fitted with CEL Medium Intensity Red Aviation Lights. 
CEL aviation fittings are constructed with marine grade chassis and A316 end parts fitted to 1.8m bespoke factory made marine steel pedestals.
AIRCRAFT WARNING LIGHTING
Marine Grade CEL aviation lights compliant to CAA / EASA / ICAO installed complete with inbuilt BMS fault monitoring, WIFI monitoring.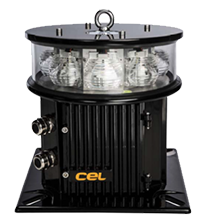 CEL-MI-ACWGAM