GENERAL DATA
Architect: Farrells
Developer: Ardmore
Materials: Concrete, Steel and Glass
Airspace Protection Lighting: Medium Intensity ICAO Type C
TECHNICAL DATA
Height: 123m + 85m
Floor Count: 37 & 25 Halo Roof Feature
Materials: Concrete, Steel and Glass
CEL Aviation Lighting: CEL-MI-ACWGAM+ Infrared NVG detection
THE DEVELOPMENT
Chelsea Waterfront is located on the flight path toward Battersea Heliport and the towers are captured for airspace protection.
In addition to visual Medium Intensity Red Aviation Lighting at the highest points, an extra element of 850nm infrared lighting has been provided, for use with military and standard device Night Vision Devices (NVD/NVG).
CEL aviation fittings are robust marine grade design including A316 stainless steel end parts. CEL aviation lights are fitted to special top frame bracketry on both towers.
AIRCRAFT WARNING LIGHTING
Marine Grade CEL aviation lights compliant to CAA / EASA / ICAO installed complete with inbuilt BMS fault monitoring, WIFI monitoring.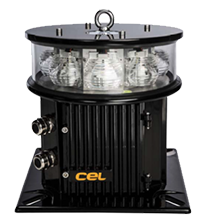 CEL-MI-ACWGAM+ Infrared NVG detection