GENERAL DATA
Architect: Skidmore, Owings and Merrill
Developer: Ballymore Group
Main Contractor: Mace
Airspace Protection Lighting: Medium Intensity ICAO Type-C
TECHNICAL DATA
Height: 155m East Tower – 122m West Tower
Floor Count: 48 – 38
Materials: Concrete and Glass
CEL Aviation Lighting: CEL-MI-2KR-48
THE DEVELOPMENT
In 2007 the Pan Peninsula topped out and was then one of the first tall residential developments to be built in the Docklands, London E14.
Towering at 155m this luxury living space and close proximity to London City Airport and nearby helicopter movements was captured for CAA mandated aviation safeguard lighting.
Medium Intensity lighting and BMS controllers were fitted to the tallest East Tower.
CEL aviation lighting specialists were recommended to offer advisory, design and supply of fully compliant products to achieve the required aviation airspace protection.
AIRCRAFT WARNING LIGHTING
Robust Medium Intensity Type-C 2,000cd red CEL aviation lights compliant to captured CAA / EASA / ICAO regulations.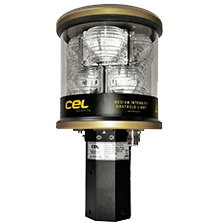 CEL-MI-2KR-48