GENERAL DATA
Architect: Renzo Piano
Developer: Sellar Property Group
Airspace Protection Lighting: Medium Intensity ICAO Type C
TECHNICAL DATA
Height: 310m
Floor Count: 94
Materials: Steel and Glass
CEL Aviation Lighting: CEL-MI-2KR
THE DEVELOPMENT
The Shard, the tallest skyscraper in London standing at 310 meters with offices, restaurants, hotel, private apartments and a public viewing gallery. The building spire LVL94 tops out with CEL aircraft warning lights.
This landmark building was captured by en-route mandatory CAA Air Navigation Order regulations and airspace protection lighting is strictly compliant to EASA, CAA, ICAO regulations.
Contarnex are delighted to have successfully delivered compliant airspace protection lighting to the most prestigious landmark in London.
AIRCRAFT WARNING LIGHTING
Robust CEL aviation lights compliant to CAA / EASA / ICAO installed complete with inbuilt BMS fault monitoring, WIFI monitoring.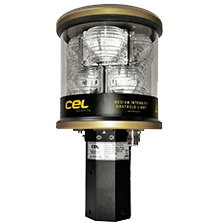 CEL-MI-2KR