GENERAL DATA
Stage Set Designers: Negearth
Materials: Steel, Glass and Visual Projection Screens
Airspace Protection Lighting: CEL-MI-ACWGAM
TECHNICAL DATA
Rammstein – Stage Set European Tour 2019
Stadium Count: 29
CEL Aviation Lighting: CEL-MI-ACWGAM – stage set flash modified
THE PROJECT
Rammstein kicked off their stadium tour in Germany in May 2019, to sell out stadium crowds.
29 European open-air dates Negearth production designed a dystopian skyscraper stage set with a fury of pyrotechnics, including CEL Aviation Lighting as they were considered the most adaptive for creating synchronised and chaotic flash patterns.
CEL Aviation Lighting are delighted to have added their intelligent lighting and GPS control to their stage set.
AIRCRAFT WARNING LIGHTING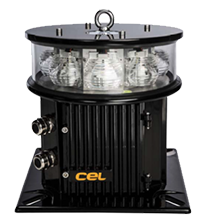 CEL-MI-ACWGAM