GENERAL DATA
Developer: Fred Olsen Renewables
Wind Turbine: 2.5MW Nordex N80
Turbine no: 25
Capacity: 62.5MN
Airspace Protection Lighting: Medium Intensity ICAO Type-C
THE DEVELOPMENT
Crystal Rig Wind Farm is an operational onshore wind farm located on the Lammermuir Hills in the Scottish Borders region of Scotland. Phase 1 was completed in May 2004 it was the largest wind farm in Scotland.
CEL-MI-ACWGAM aviation light is under analysis for anti-glare strict beam requirements.
AIRCRAFT WARNING LIGHTING
Robust CEL aviation lights compliant to CAA / EASA / ICAO installed complete with inbuilt BMS fault monitoring and WIFI monitoring.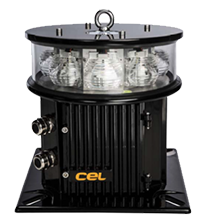 CEL-MI-ACWGAM