GENERAL DATA
Architect: Herzog & de Meuron Architekten
Developer: Canary Wharf Contractors
Airspace Protection Lighting: Medium Intensity ICAO Type C
TECHNICAL DATA
Height: 205m
Floor Count: 58
Materials: Concrete
CEL Aviation Lighting: CEL-MI-ACWGAM
THE DEVELOPMENT
One Park Drive is a 205m tall residential tower office in the financial area of the Docklands Business District.
This luxury living space and close proximity to London City Airport was captured for EASA and CAA ANO aviation safeguarding.
CEL Aviation Medium Intensity lighting is fitted omni-directionally at roof level and is LED based offering long lifetime and reliability. Monitored by BMS.
AIRCRAFT WARNING LIGHTING
Robust CEL aviation lights compliant to CAA / EASA / ICAO installed complete with inbuilt BMS fault monitoring and WIFI monitoring.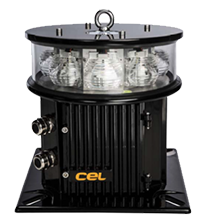 CEL-MI-ACWGAM