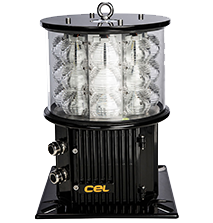 CEL Aviation Lighting is the UK's leading supplier of aircraft and obstruction warning lights for all high-rise structures which may present safety hazards for commercial and military aviation.
Our services include design, installation and specialist advice to help our clients comply with regulations relating to aviation safeguarding. Our partnership with Obelux of Finland for over 20 years has benefited the protection of the UKs airspace.
UK AIRCRAFT WARNING LIGHT SPECIALISTS SINCE 1997
As our cities grow taller, flight paths get busier, and wind farms become more widespread, the need to prevent collisions between aircraft and hazardous high-rise structures is increasingly important. CEL has decades of experience in keeping aircraft and buildings safe. Our warning lights have been chosen to protect The Shard, Canary Wharf Tower, Forth Road Bridge, Mersey Gateway Bridge, as well as global landmarks, Al Wahda Arches in Qatar, Samba Bank in Riyadh, and Abu Dhabi Plaza in Kazakhstan. Please click to see our most recent case studies.
EXPERT ADVICE ON REGULATIONS AND COMPLIANCE
At CEL, we understand that staying up to date with all the latest regulations on aircraft warning lights can be a confusing and time-consuming task. As an important part of our service, we aim to provide our clients with best-practice compliance advice on all relevant aviation recommendations and regulations, in any part of the world. Please click here to visit our fully detailed Compliance and Services page.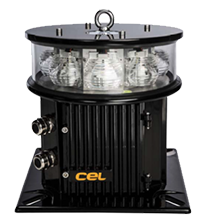 OUTSTANDING EUROPEAN DESIGN AND MANUFACTURE
All CEL aircraft warning lights are designed and manufactured in the EU in accordance with the most stringent quality controls.
For our customers' complete peace of mind, our lights are made with the highest quality LEDs for exceptional performance, low power consumption and reliability, and marine grade parts for robust durability in challenging offshore environments. CEL systems can be configured from standalone to ModBus control, with fault and operational monitoring by BMS, GSM and via web browser anywhere in the world.
CHOOSE OUR SPECIALIST AIRCRAFT WARNING LIGHT SERVICE
We can help you select the right aircraft warning lights for your tall building or other possible airspace obstruction. Simply send us details of your specification, design and elevation drawings/plans. With this information, we can advise you on the best solution for safeguarding your tall structure. Please click here to visit our Compliance and Services page for more details.
RECENT PROJECTS THAT CEL HAVE WORKED ON:
COMPANIES CEL HAVE WORKED WITH: